RSA Junior Sedans
RSA Junior Sedans are constructed to the same specifications as RSA 4 Cylinder Sedans (standards). With a maximum engine size of 1600c.i. Constructed from 4 cylinder road sedans with a fully compliant safety cage installed. Junior drivers are aged between 10 and 17y/o and hold licences issued through Speedway Australia. Rookies race in the "New Stars class with the more experienced drivers progressing to the "All Stars".
RSA 4 Cylinder Sedans
RSA 4 Cylinder Sedans are built from hard-top 4 cylinder passenger sedans that have been available for sale within Australia and are fitted with a fully compliant roll cage. Specifications allow for 2 divisions being "Standards" and "Modified" with both front and rear drive allowed.
Drivers are 17 and older and are licensed through Speedway Australia.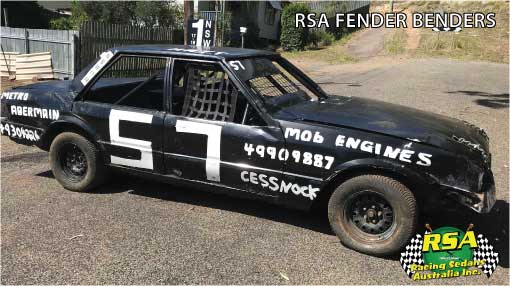 RSA Fender Benders
RSA Fender Benders are constructed from road cars and allow sedan, wagon or ute bodies and allow for "Contact Racing" and are separated into 2 divisions. Division 1 are "Hard-nose" with division 2 being "Soft-nose" constriction. Both divisions are fitted with fully compliant roll cages. Fender Bender racing format allows for contact between competing cars with all races being run over a set number of laps with the winner being the first to claim the chequered flag.
RSA Street Stockers
RSA Street Stockers were originally formed in 1979 at the now defunct "Heddon Greta Speedway". These cars are constructed from 6 cylinder road cars that have been available for sale within Australia. All cars are fitted with fully compliant roll cages. RSA Street Stockers are by far the largest division within Racing Sedans Australia with hundreds of registered cars located at multiple RSA affiliated clubs. Shane Carlson from Newcastle Street Stockers Club currently holds the honour of being Australia #1 for the 2017-18 season.
RSA Limited Sedans
RSA Limited Sedans were originally founded as a "promoters division" at Grafton City Speedway many years ago. This class allows for both Mono-constructed (road car) and purpose built Chassis cars to compete together. With a maximum 320c.i. engine, 4cyl., 6cyl and V8's are allowed. This division suits older style super sedans like Torana, Corvette and Monza style with Holden 308 and Ford 302 engines as well as ex-modified production and production sedans. One-off constructed speedway sedans often fit into this class as well.
RSA Outlaw Sedans
RSA Outlaw Sedans are purpose built Chassis construction sedans with race rubber and engines up to 366c.i. Engines can be 6 cylinder, rotary or V8's. This division suits older style super sedans. Built to resemble road cars, crowds enjoy seeing these Outlaw Sedans with fast, close racing and sidewards cornering often a feature of this division. This division is a good place for young drivers to gain seat time before stepping up into Super Sedans and Late Models. It is also a good class for drivers who no longer want to spend the time and money needed to be competitive in the premium grades.
Racing Sedans Aust. Facebook