RSA Junior Sedan Australian Title 2019-20
Junior All Stars Nominations
Junior New Stars Nominations
NOMINATIONS ARE NOW CLOSED!
For Late Nominations, please contact your Club Secretary!
N.B. Late Nominations may be placed Rear of Field!
Divisional Technical Officers
Racing Sedans Australia AGM 2020
Sunday, the 13th of September 2020 saw this year's holding of the RSA Annual General Meeting and during these extraordinary times the Executive made use of the latest technology and held the entire meeting online. There was a great attendance and the entire agenda was covered over a 7 hour period.
Darren Cassidy and Kylie Anderson, President and Secretary respectively, both took this opportunity to step aside after multiple terms in their roles. All in attendance took the opportunity to thank them greatly for the exceptional efforts for the best part of half a decade. Members also took the chance to thank Ash Dawes, Joanne Cotton, Charlie Dodson, Adam Parker and Louise Harland for their efforts over the past season in their respective committee positions.
The new members of our committee who's names you will see posted here were warmly welcomed into their new positions.
Visit our "Contact Us" page for more information.
Just click HERE
And Leeton Motor Sports Club makes us 20 Club Family!
Today we have the great pleasure of welcoming yet another club into our family. Leeton Motor Sports Club is located in the Riverina region of Southern New South Wales.
The Leeton Motor Sports Club was founded in 1976 and is now the 20th club in the RSA affiliated family. We are both honoured and privileged to call you part of the family.
Visit our "Affiliated Clubs" page for all their contact details.
Just click HERE
Welcoming our new NSW affiliate club
Joining the RSA Family for season 2020-21, is Wagga Speedway Club. Based in Wagga NSW and racing at the Illabo Motorsport Park in NSW, WSC will be another new base for RSA. Beginning with RSA Outlaw Sedans, Limited Sedans and Street Stockers for this season.
Visit our "Affiliated Clubs" page for all their contact details.
Just click HERE
Welcome to our latest qld affiliate club
With new season fast approaching we would like to welcome Lockyer Valley Speedway Club into the RSA Family. Lockyer Valley Speedway is located in the heart of Gatton in South East Queensland and for the new season will be working hard to develop a base in South East Queensland for  RSA Fender Benders.
Visit our "Affiliated Clubs" page for all their contact details. Just click HERE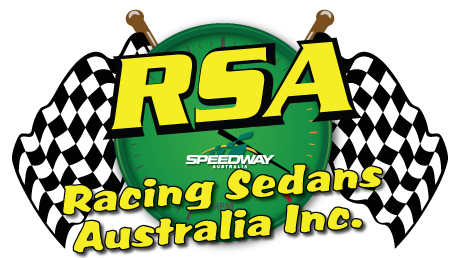 Coming together & moving forward
Racing Sedans Australia was founded in the Hunter Valley NSW in 1984. The RSA was established by drivers, for drivers, and is run by drivers.
It exists to offer Budget-class racing across 7 Speedway Australia recognized race divisions.
National Titles
Australia Day Long Weekend This Australia Day long weekend sees this season's running of the RSA Street Stocker Australian Title at Gilgandra Speedway. Running over
Read More »
National Titles
Racing Sedans Australia 2018-19 Street Stocker Australian Title It's Time! This Australia Day Long Weekend, Racing Sedans Australia in conjunction with Gilgandra Speedway Club, will
Read More »

Championships
Nominations for this year's 4 Cylinder Sedans NSW State Title are out!   This Saturday, weather permitting, Nowra Speedway will play host to the 2018-19
Read More »
Racing Sedans Australia Affiliates